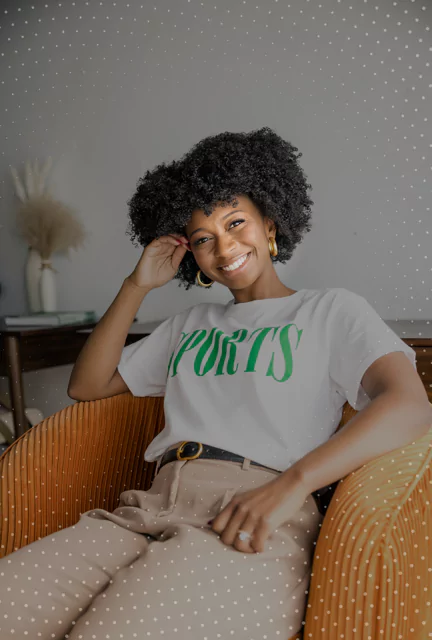 JORDAN,
MEMBER
COLLECTIVE MEMBER
JORDAN @ Jordan Robinson
The All-in-One Financial Solution for Self-Employed Entrepreneurs
Join the thousands of solo-preneurs who have saved an average of $10,000* a year on their business
FEATURED IN
"I wouldn't have gotten my business up and running so fast if it weren't for Collective. Now I can jump in and do what I do without worrying. I am at a higher level. It's great to feel and be so legit and my clients see this too."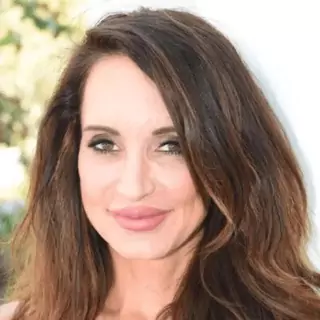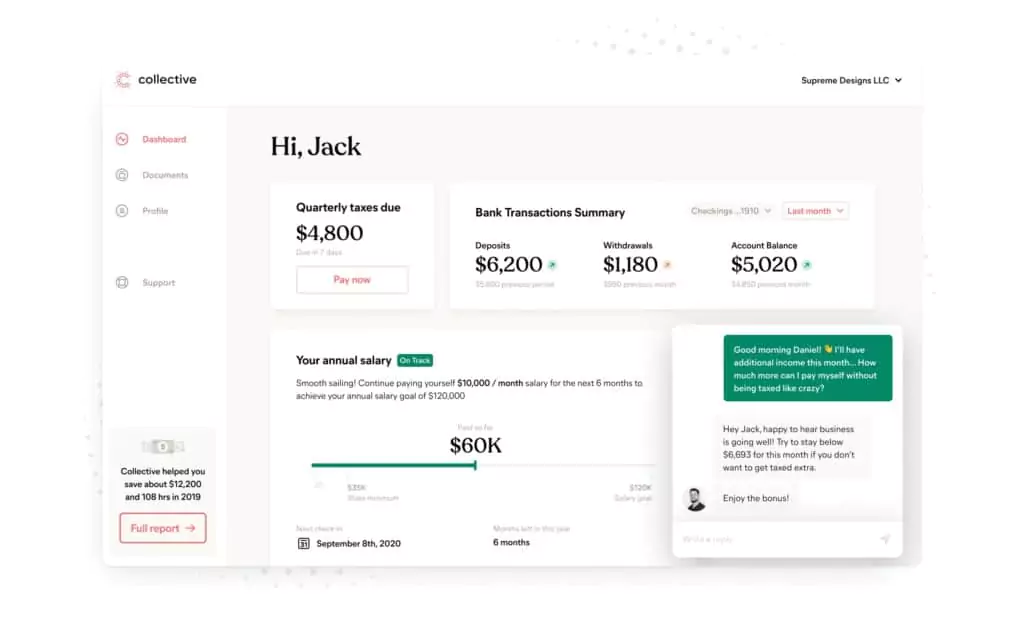 How our financial solution for self-employed business owners works
You have the power to control your financial future. It's time to unleash it. Collective offers the first back-office designed for self-employed business owners - company formation, tax, accounting, bookkeeping services, and useful resources for starting a small business.
Getting started is easy.
Here at Collective, we're kind of obsessed with S Corps. Why? Because the way you organize your business makes a big difference in how much you pay in taxes. And for most self-employed businesses, forming an S Corp could lead to big tax savings.
When you become a member, you get your own accounting team and software to track and manage your finances.
Tell us about your business
Answer a handful of questions about yourself and your business to help us determine if an S Corp can help you save money in taxes.
Talk to a Collective Advisor
Talk to a business advisor to understand where you can save money and make sure a Collective membership is right for you. We only accept members that we're confident we can partner with to save them time and money.
Organize your S Corp
Easily organize your S Corp with our online wizard. We'll also help you get an EIN, business license and open a business bank account. If you have questions, your trusted advisors will be there every step of the way.
Meet your team and set up your personalized back office system
Your accounting and tax team will help you set up your payroll, bookkeeping tools, and file your business.
You'll also be assigned a dedicated Member Relationship Manager who will be your point of contact for your tax and financial questions. They're available to answer questions and help you when you need it most.
Monthly Bookkeeping
Every month, your team will categorize your expenses and verify your transactions with your bank statements. Our experts review your financial reports and deliver a complete reporting package to you monthly.
Monthly bookkeeping and payroll are included at no extra charge.
Get personalized advice and peace of mind, any time
With a dedicated finance team and tools built for your success, you'll run your Business-of-One confidently knowing that our tax advisors have your back.
Message your Member Relationship Manager if you have questions. – we're here to help.
Pricing
You didn't start your Business-of-One to be your own accountant.
Everything you need in one place, for one affordable monthly price.
Collective is tax deductible and pays for itself within months.
Business Formation
LLC formation in your state
Creation of an operating agreement
Obtain Your Tax ID Number (EIN)
File an S Corp election with the IRS
Employer Registration in your state
Provide a registered agent for your business
Alerts for annual compliance filings
Self Employed Taxes
Annual salary recommendations
Owner paycheck calculator
Business income tax returns (federal and states)
Business Support
Free consultation with a tax advisor
Year-round bookkeeping, payroll, accounting and tax support
A member relationship manager
Newsletters, resource guides, and educational webinars
Self Employed Accounting
Set-up company books and payroll
Bookkeeping and payroll training
3rd Party Verification by CPA for lending purposes
Self Employed Bookkeeping
Monthly categorization of business transactions
Reconciliation of business bank and credit card accounts
Expert review of financial reports
Financial reports package delivered monthly
Close books at end of year and prepare for taxes
Self Employed Payroll
New hire reports filed with State
Preparation and filing of quarterly payroll returns
Gusto subscription for payroll ($45/month value)
Gusto payroll system training

Thanks to Collective, I don't have to worry about bookkeeping, taxes and other government related tasks and can focus 100% on my work. If you're self-employed and need help with tax, bookkeeping and ongoing support, all-in-one place, you'll love Collective!
Arjun Dev Arora
Strategy, Venture, Technology
Frequently Asked Questions
How much does Collective cost?
We make Collective affordable with bite-sized monthly payments. You get everything you need to start and run your self employed business and take advantage of potential tax savings for just $349/month or $296/month when paid annually. Since our members saved an average of $10,000* in taxes in 2021, Collective pays for itself in just a few months. Plus, it's 100% tax-deductible – how great is that?
What's included in the price?
The price includes filing a single-member LLC and S Corp tax election, getting your EIN number, monthly bookkeeping services and financial reporting. You also get your very own accounting and tax advisor, who will file your business taxes and give you year-round tax support. All Collective plans include monthly bookkeeping and payroll.
What's not included in the price?
The price doesn't include third-party fees (such as fees and taxes charged by your city, state or the federal government), individual federal and state tax return preparation and filing, business license filing fees and other license fees, which vary by city.
Does Collective have a setup fee?
Yes, there is a one-time Onboarding fee of $199. This fee goes toward ensuring that your business is set up correctly, registered with the appropriate agencies, and in compliance with payroll requirements. This fee also covers catching up and cleaning up your year-to-date bookkeeping, regardless of the number of transactions.
What's Collective?
Collective is the first back-office system designed for self-employed business owners that lets them focus on their passion, not their paperwork.
What services does Collective offer?
With Collective, you get accounting, monthly bookkeeping and financial statements, payroll support, administration, S Corp formation, annual business tax filings, and quarterly tax support.
How does Collective help with tax savings?
Your team of advisors is here to help you get the most out of your S Corp. We ensure that your bookkeeping is up to date and that your personalized tax advice is based on real, accurate numbers.
Why doesn't Collective support all businesses?
Even though we'd love to help everyone, our goal is to assist those who'd benefit the most from our services. Full-time solopreneurs, like marketing consultants, coaches, designers, software developers and creatives who make over $80,000/year, find the most value in Collective. Many of our members come from referrals, so if you know someone we should talk to, let us know.
* Based on the average 2020 tax savings of active Collective users with an S Corp tax election for the 2020 tax year
*if elected by Member, and if eligible